How focusing obsessively on a single issue paid off for us
Published 2015-12-04, updated 2023-03-21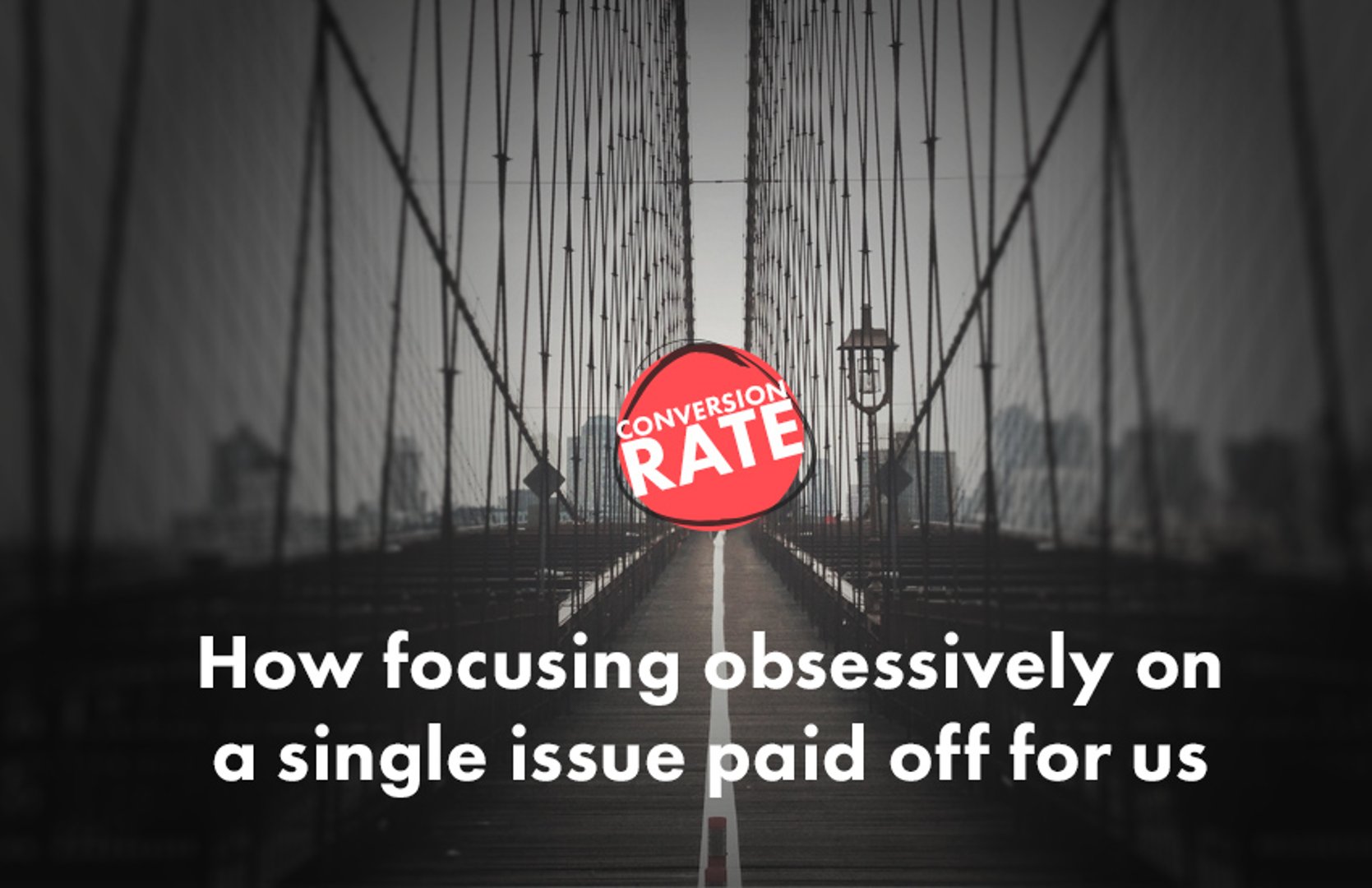 Summary - One of our ongoing challenges is converting prospective customers into paying clients. We had considerable success doing so during our third quarter – something we're very proud of. But success did not come easy. It took everyone in the company pulling together toward a common goal. That single-minded approach was so successful, we plan to use it again whenever we want to move
---
We always have our eye on our conversion rate – the number of people who convert from being prospects to paying customers.
Earlier this year, we realized we had a problem. Though we had lots of people trying our product, only about 4% of the people who entered a trial were converting into customers. And try as we might, we did not succeed in improving the conversion rate significantly between the first and the second quarters.
Why couldn't we move the needle?
Improving the conversion rate became our war cry going into Q3.
But this time, we did things differently: We got the whole company to focus on that one issue – obsessively. How to boost the conversion rate became the topic of lunchroom conversations. Everybody started digging in - analyzing the same issue, doing research and focusing on potential solutions. It ended up being a structured look at one critical issue. The result was ideas.
And we put the best of those ideas to work. They included:
Putting live help into our trials. When prospective customers came looking for assistance, they got to talk to an actual person, who was able to provide them with immediate assistance.
Increasing the number of out-of-the-box templates for our dashboards. This allowed prospective customers to choose from a greater number of pre-built applications; with more to choose from, they were more likely to find something that suited their needs.
Creating virtual tours of the application. This showed prospective customers the range of what we have to offer, and allowed them to more easily visualize how we could meet their needs.
Improving the quality of our leads. For example, we found that a significant portion of our ad traffic was coming from a couple of Asian countries; but most of the people from those countries who clicked through our ads never converted into customers. We stopped going after people from those countries, and focused our efforts instead on parts of the world where we were already meeting with more success.
What's awesome about this process is that it worked.
Our Q3 conversion rate shot up to 6% - a significant increase.
And we were able to tell employees that their efforts paid off – which was a powerful message in terms of company morale.
In retrospect, I think our decision to obsess about one thing was the key to our success.
We could have gone after any number of key performance indicators, but we didn't: We focused on a single issue.
As a result, our efforts were focused, too. We had everyone in the company genuinely concerned and motivated and working towards a common goal. We were all rowing in the same direction – and that coordinated effort proved to be very powerful.
Does that mean we let other key performance indicators drop?
Yes – to some extent. But that's not a bad thing.
Many of our other key indicators, things like retention rate or expansion, derive from the conversion rate. After all if you can't convert people into paying customers in the first place, you can't sell them anything else, or create incentives to keep them.
And by focusing on a single issue – the conversion rate – rather than on a number different indicators, we were also able to see what worked. If we'd chosen to focus on several different indicators at the same time, for example, we would not know for sure which moved the conversion rate.
Now we know.
We're not saying we're done with the conversion rate, but we're declaring a significant victory on this issue.
Our next challenge is moving the needle on expansion and retention.
Allan Wille is a Co-Founder and Chief Innovation Officer of Klipfolio. He's also a designer, a cyclist, a father and a resolute optimist.
Related Articles