How a startup can make the most of a board of directors
Published 2015-05-15, updated 2023-03-21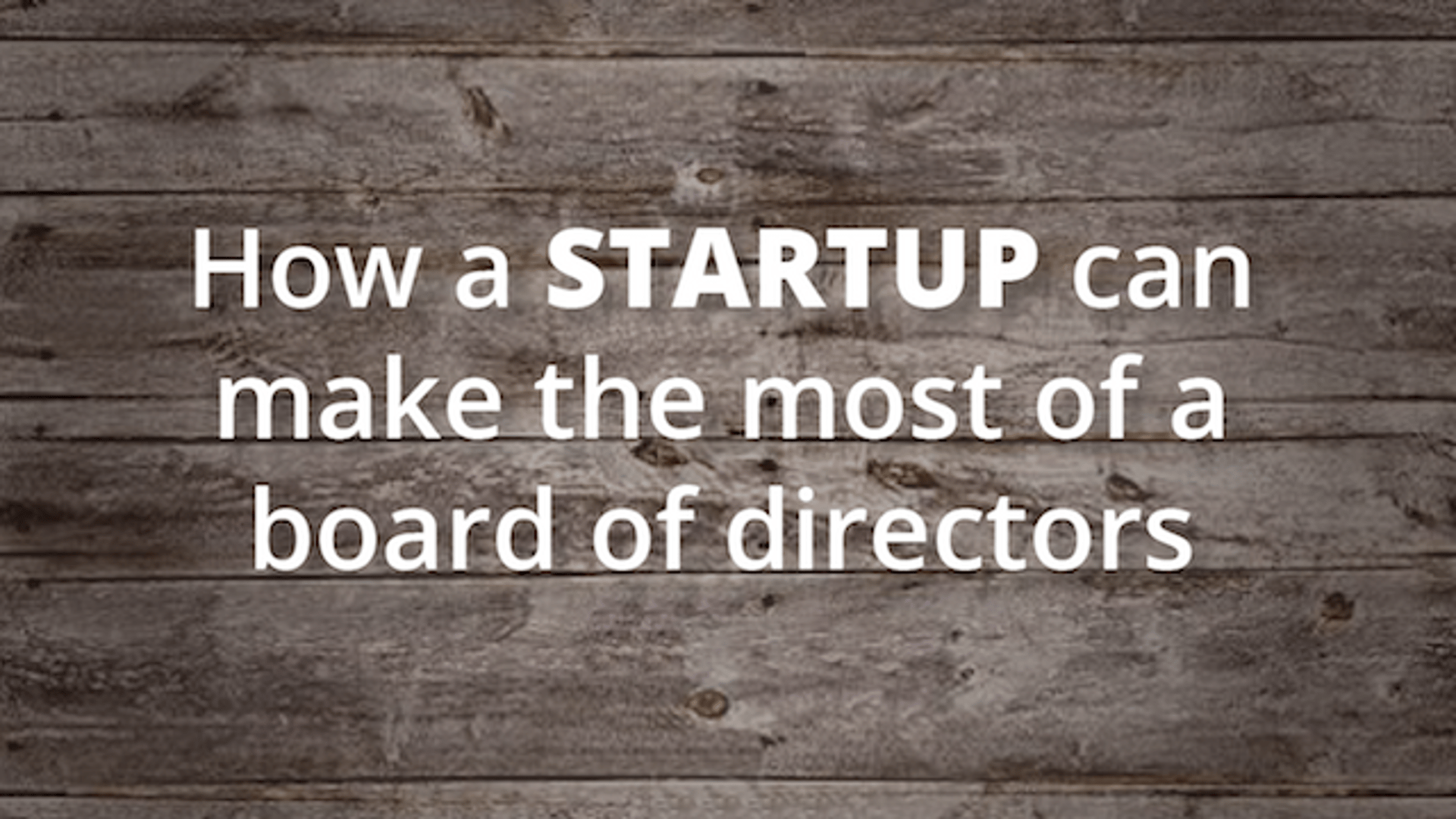 Summary - For an emerging startup, every member of the board of directors is critical. A new board member can change how you think, plan and operate.
---
Earlier this year, we were the beneficiaries of a $6.2-million equity financing round led by OMERS Ventures, one of Canada's largest pension funds.
One of the conditions of the financing was that OMERS be represented on our board of directors.
At our most recent board meeting in April, we welcomed a fourth director: OMERS representative Damien Steel.
We used to have a three-member board, and we had a good dynamic going. The addition of Damien to our board not only added an extra person, it also changed the way we interact.
Things didn't flow as smoothly at first as they had in the past. I suppose that's not surprising, since there was a new person in the room – a new person who represents not only our largest shareholder, but who is also someone with whom we had little history in common.
Our old three-person board had, over time, developed good habits and learned to work well together. In retrospect, I realized that the presence of a new person had caused me to regress. Instead of looking to the board for the information I needed for the future, I reverted to reporting.
I talked to Damien about this after the meeting and he in turn offered some practical suggestions for future meetings to help me get the most out of my board of directors.
The suggestions make perfect sense for our company and for any young organization with a board of directors. His advice also made me realize that we had been on the right track all along. We just had to make sure we stayed on track while welcoming a new member.
In a nutshell, Damien's advice was as follows:
1. Make sure everybody is up to speed before the meeting.
Damien suggests that board members get their information – reports, facts and figures – well in advance of a board meeting.
Board members, he said, need time to read and digest the information. If they have had time to reflect on the issues in advance, they come to the meeting better equipped to make meaningful contributions. Opinions formed in advance have more weight than opinions formed on the spot.
My CFO, Ken MacAskill, also suggests phoning each board member before the meeting.
This allows you to prepare discussion points -the better to answer questions. It also helps keep the meeting focused because you've had a chance to bring everyone up to speed.
2. Get the administrative stuff over with quickly.
While it seems fairly obvious, it is important to allocate time in a meeting to the most critical issues. Getting bogged down in administrative detail can sidetrack the board and sap its energy. Generally, the official resolutions can be handled within 15 minutes. We tackle this first.
3. Don't report, discuss!
You can't change the past, so rehashing the last quarter's results won't do much good; A CEO needs guidance about future decisions or issues looming on the horizon.
In a good board meeting, it's best to spend as little time as possible making (or listening to) reports, and as much time as possible focused on the future.
Damien suggests that a CEO take charge of a board meeting and set out three or four specific items for discussion. His advice to me: Solicit input on strategic decisions that have to be made, or the issues that keep me up at night.
That strikes me as eminently practical: The board members need to understand what is occupying my time, what makes me uncomfortable, or where I lack focus or information. If we use the board meeting to discuss these current challenges rather than going over what's already happened, I am more likely to come out of the meeting with something valuable.
Focussed discussion, even if there are varying points of view, generates quality advice and guidance. And as a CEO, that's what I really want from each and every one of my board members.
Allan Wille is a Co-Founder and Chief Innovation Officer of Klipfolio. He's also a designer, a cyclist, a father and a resolute optimist.
Related Articles