—

November 4, 2014
Zach's Day 1 Recap of Web Summit in Dublin, Ireland
Day one of the Web Summit in Dublin was a whirlwind. Speakers presented on a variety of thought provoking topics, and while there were 9 different summits, including a 'Center Stage', one theme shined through for me: data, and the abundance of it. With the insights we have on our customers, argued a panel on Adaptive Creativity, creative teams can find groundbreaking ways to get in front of prospective clients. This can mean a billboard that changes its message based on the speed of passing drivers (beautifully done by Cisco), or a Subway station poster whose model's hair gets ruffled by every passing train, hopefully selling more shampoo along the way. Marketers can go from targeting prospective customers based on simple demographics, like age and sex, to targeting and retargeting based on advanced insights, like what a person likes to eat or drink, where they shop, and what they do on weekends.
"Some call it the golden age of marketing," said Andy Moscowitz of GE, "but it's really just the dawn of the age of accountability."
With so much information at our fingertips, I'm thrilled to be part of a company whose mission is to bring data together and get it into the hands of those who need it to run their businesses, whatever their business is.
Looking forward to day 2!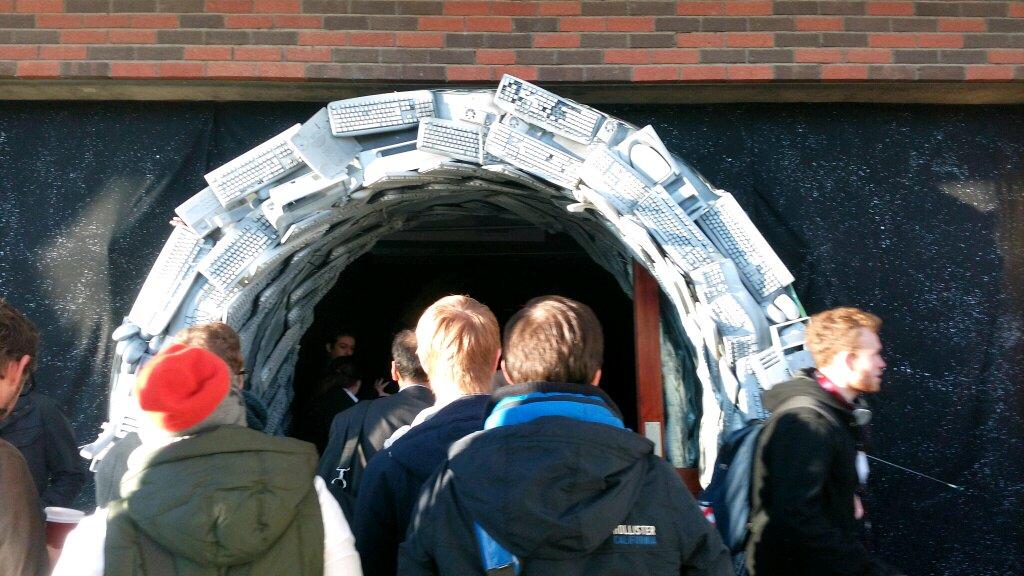 An 'appropriate' entrance to Web Summit!