Why you need to own your mistakes
Published 2016-07-08, updated 2023-03-21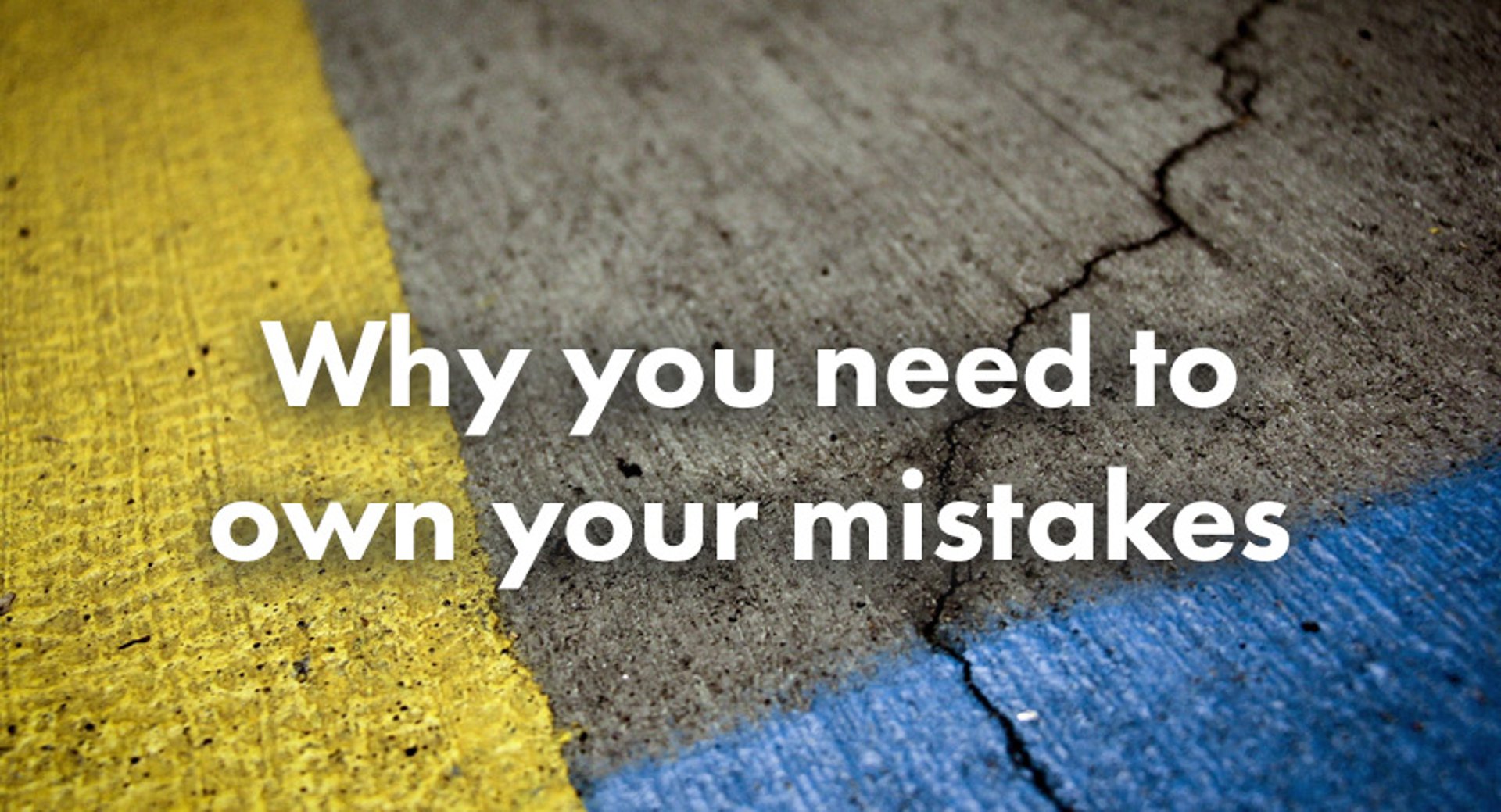 Summary - It's inevitable, things will go wrong. When a business takes ownership of its mistakes you can create goodwill and improve your image among clients.
---
No one likes it when something goes wrong. But take it as a fact: It's inevitable, and at some point, something will. A server will fail, someone will press the wrong button, or invalid information will be taken as true. And customers will notice.
Children often lie or deny when caught red-handed doing something bad. "Did you eat those cookies?" asks the parent. "No, it wasn't me!" replies the child, despite chocolate-stained fingers and a face full of cookie crumbs.
In business, that lie-or-deny instinct can be fatal.
The best policy – in fact the only policy – is to take responsibility for whatever went wrong.
It has always been our policy to do so. And I know from experience that it pays off many times over in trust, goodwill and understanding.
Here's our approach to handling mistakes, screw-ups and problems:
Admit something's gone wrong
When my Internet goes out at home, I get annoyed. I get even more annoyed when I check their service status page and it shows all systems are green, even as the Twittersphere is lighting up with the same issue. However, I'd be much more understanding if there was a message on their status page admitting there's a problem and saying they're working on it.
So when things go wrong, put yourself in the customers' shoes. Nip any frustration in the bud by telling them very quickly that something's amiss and that the problem is being worked on.
Give people information
We have a protocol in place for dealing with problems, and that protocol provides for regular release of information to customers.
As quickly as possible, we put a message up on our support site. We also send out a Tweet saying we're working to fix the problem - no matter what time, day or night.
We send out updates even when there's nothing new to report. An update telling people we're still working to fix the problem reassures customers. (Again, think of how you'd feel if your cable or Internet went down). The last time we had a major outage we were Tweeting every 30 minutes.
Tell people you've fixed it
When the problem is fixed and things are back to normal, send out an all-clear message. Otherwise, you'll leave people wondering what's going on.
That message should also explain what the problem was, and address any concerns that might have been raised by the situation.
Learn from your mistakes
As soon as you can after the problem, screw-up or mistake, figure out what went wrong. See what you can do to prevent it from happening again (in other words, what was the root cause and how will you fix it). Then, also assess what you did wrong in response to the mistake – and also what you did right.
Apologize and acknowledge concerns
As soon as possible, send out an apology. The apology for the mistake should be sent by a person at the right level in your association. For example, if one customer was affected in a minor way, our customer success representative responsible for them would reach out directly. But when we had a major outage last spring, it was important that the emails to our 5,000 customers come directly from me. And I replied personally to every single person who responded.
Any apology should acknowledge concerns customer might have. For example, you may need to reassure them about the security of their data. The apology should also quickly describe the problem, explain why it occurred, and talk about what you're doing to prevent it from happening again.
A lot of our customers are like us – growing businesses. They understand the issues we face and can empathize with our situation. And when we've admitted to a mistake, they have responded positively.
It's not productive to blame anyone or anything for the mistake. Even if the problems were not ultimately your fault, your customers won't see that; they see you.
And when they see that you admitted to a screw-up, they will recognize that you are a company that takes responsibility. They will recognize your honesty. And they will respect you for it.
Allan Wille is a Co-Founder and Chief Innovation Officer of Klipfolio. He's also a designer, a cyclist, a father and a resolute optimist.
Related Articles