Klipfolio Metric Monitoring for Startups
All of your startup in one spot.
Klipfolio Metric Monitoring for Startups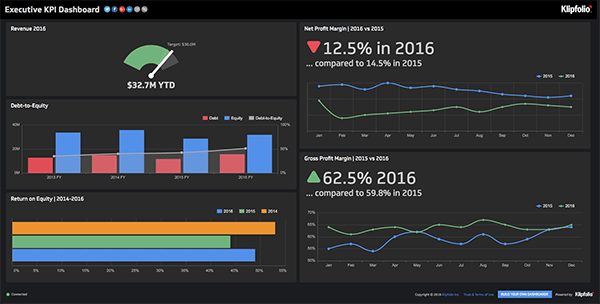 Loved by more than 10,000 companies of all shapes and sizes
It's no secret that startups have a lot on their plate. Breaking into an industry can be tough, so it's important that no key performance data points go unnoticed. But with all that data coming in, and hardly any time to spare, how can startups make sure they are on top of the right data?
This is where dashboards come in. With powerful, dynamic visualizations, monitoring your data no longer has to be a challenge. Klipfolio dashboards connect with virtually any data source behind your business, allowing you real-time visibility into the product, growth and efficiency metrics that signal the health of your business in every aspect.
Startup dashboard examples
Curious to see what you can track in Klipfolio? Here are just a few examples of the dashboards you can build that will help you grow your startup. View the Live Dashboard examples to get a better look.
Consolidate all your account and MRR data
Track account performances over time
Manage and gain a view into activity trends and growth over time
Monitor today's major traffic drivers and sources
Track goal completions
Gain insight on top performing pages
Metrics for Startups
Want to motivate your team and stay up to date on your data, but not sure which metrics to start with? Not to worry, we've compiled a list of common startup KPIs (key performance indicators) our users have built using Klipfolio. If you are looking for more, check out our KPI Library:
Net MRR
MRR Expansion Rate
Net Promoter Score
Customer Acquisition Cost
Customer Lifetime Value
Customer Churn
Funnel Conversion Rate
Customers by Category
Revenue YTD
Net Profit Margin
Debt-to-Equity
Top Accounts
Want some more information on Startup metrics? Consider reading these helpful blog posts on selecting the right KPIs to be monitoring:
How to track your not for profit metrics with Klipfolio
Klipfolio allows you to pull in data from all of the platforms you use to track your charitable organization's data—and display precisely what you need in a single interactive dashboard. What does this mean for you? No more wasting precious time manually checking and rechecking reports with various versions of dynamic data. And you can get started with just a few clicks. Click here for a complete list of all our integrations.
Pre-built Metrics
Using pre-built metrics
Our Klip Gallery allows you to track your key metrics with just a few clicks, wihtout the hassle of building. You can get the Klips that matter most to your business right from our Gallery to your dashboard in minutes.
Google Analytics
Are you using Google Analytics to track on-site data? Connect your account with Klipfolio and easily track key metrics in a dashboard that's easy to share. In Klipfolio, you can track metrics like:
Campaign Stats
Sessions by Region
Keyword Performance
Traffic Channels
Conversion Funnel
Website Performance
Top Posts by Conversions
Landing Page Views
Organic Search Performance
Make sure your ad campaign is generating traffic by monitoring your key Google Analytics campaign statistics for the time period of your choice.
Your landing page is the backbone of your marketing campaign. Make sure people are seeing it by tracking views this month-to-date, and compare it to last month and your target.
See what else you can build for Google Analytics
Salesforce
Are you an Salesforce user? Connect your account to Klipfolio to easily monitor your professional services performance in a real-time dashboard. Easily share the dashboard with your team and rally around your numbers. With Klipfolio you can track:
Open Opportunities
Sales this Month
Leads vs Mentions
Conversion Funnel
Accounts by Type
Open Opportunities by Stage
Track your key metrics on open opportunities and always know what your sales potential is.
Monitor your sales this month and compare to the average of the last three months.
See what else you can build for Saleforce
Excel
Using Excel to collaborate, edit, and organize your data? Connecting your data to a dashboard gives you instant access to your must-have metrics. With Klipfolio you can track metrics like:
Retention and Expansion
Qualified Lead to Win Conversion Rate
LTV:CAC
Monthly Account Retention Rate
Lead Value
Customer Lifetime Value
Monitor the health of your business as it grows and retains customers, and at the same time, compare with the historical trend.
The longer customers stick with you, the more valuable they are. Monitor Customer Lifetime Value, and at the same time, compare with the historical trend.
See what else you can build for Excel
Building in Klipfolio
Our professional services users love Klipfolio because it empowers them to build their own dashboards. Sure, it takes time to get it right, but it's absolutely worth it.
Connecting your data
You've got an impressive technology stack, but how do those puzzle pieces fit together? Klipfolio is an API machine with 100s of connections to the support services you use to run your business.
Browse the 100+ services you can connect to
The Editor
Love to tinker and build but tired of using Excel to share your data? The Klip Editor is where you bring your data story to life. Build custom data visualizations that you can share with your entire company.
Custom visualizations
Drag-and-drop visualizations from the palette to start assembling your custom dashboard. Choose from standard data visualizations like charts, bullet charts, and scatter plots. Or get creative and inject custom HTML into your dashboard. The choice is yours.
Sharing
Data is meant to be shared. A dashboard without any viewers is, well, kind of sad. Wouldn't you agree?
Which is exactly why we make sure you can share with your team and clients through multiple channels.
TV dashboard display
Our customers love showing off their dashboards on wall-mounted TVs throughout the office. It's a great way for executives to nurture a culture of data transparency and the team to see their performance at a glance. Plus, it looks super cool.
Slack, email snapshots, and links
Send Klips or entire dashboards via Slack, setup manual or recurring email snapshots, and share links to your live dashboard.
Mobile
Get access to all your dashboards with our mobile app for iPhone and Android! Just because you're on the go doesn't mean you should miss out on your data, right?